Making Family Visitation Rooms a Safe and Comforting Space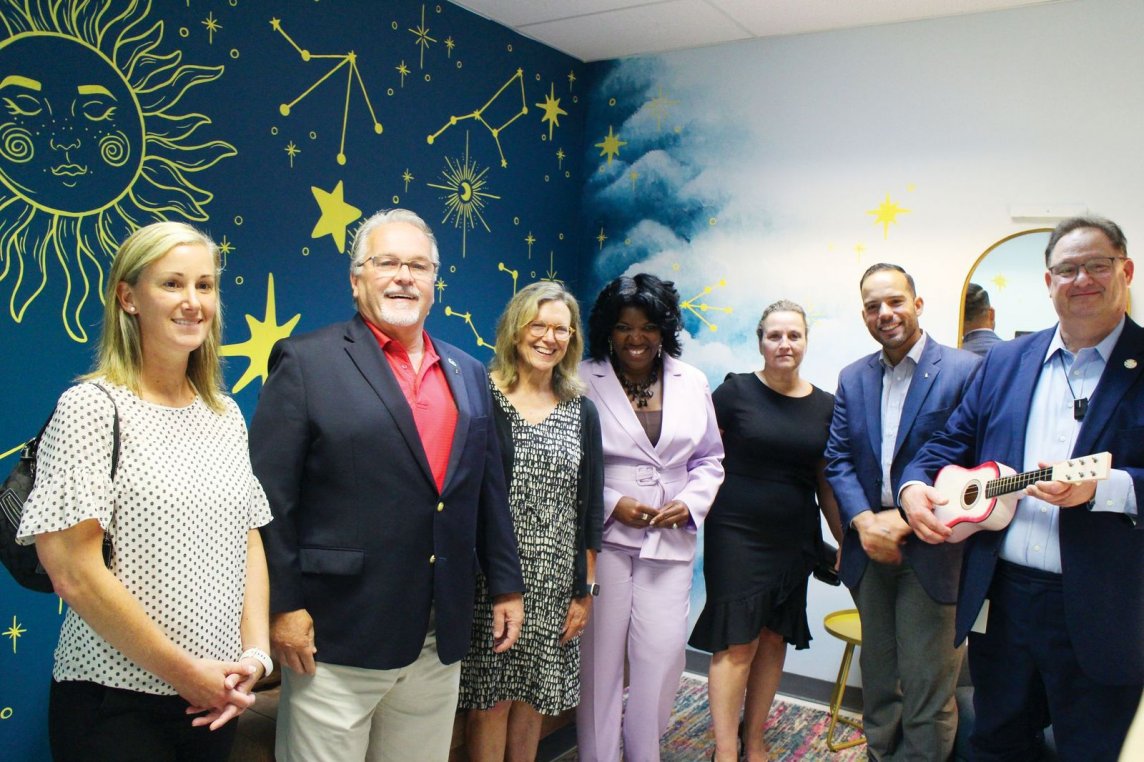 DANBURY, CT — The Connecticut Department of Children and Families (DCF) has reopened the Danbury office's family visitation rooms. The agency currently serves about 3,000 kids in the state across six regions. About 121 are served by the Danbury regional office.
By Emanuela Palmares
On Aug 30, CT DCF Commissioner Vannessa Dorantes, Mayor Dean Esposito, Fostering Family Hope Inc. (FFH) Founders/Co-Executive Directors Erin Johnston and Megan Pearson, along with other state and local officials, celebrated the grand re-opening of the family visitation rooms.
"Here at DCF, we do our best to make sure kids and families can decompress from the trauma of separation. We want to make sure when kids who have had to be placed in foster care visit with their families, they can settle in and rebuild their connections beyond the crisis that brought them to our attention. The ability to do that in a state building can be hard but Fostering Family Hope transformed the space into a place with heart and warmth," said DCF Commissioner Vannessa Dorantes during the grand reopening.
The renovated spaces were a collaboration between FFH, RiseUp for Arts, Bob's Discount Furniture, and DCF. The goal of the Visitation Room Beautification Program is to provide a warm and interactive environment for children and families to bond, build positive and healthy relationships with one another during family-child visitation, and ultimately have the best chance at success.
Fostering Family Hope works to create spaces for family visits that are more conducive to families learning how to interact with one another once again. The nonprofit was formed in 2021 by two foster moms to help provide essentials and emotional support for families. In addition to visitation rooms, Fostering Family Hope also hosts support groups, provides Care Bags, and runs Foster Closet.
State Sen. Julie Kushner, State Rep. Farley Santos, and State Representative Rachel Chaleski (R-Danbury) were also among the officials on hand to celebrate the grand re-opening.
"The care and attention that was put into creating a natural space for a more normalized interaction between parent and child can be seen in each of the redesigned rooms that included input from those who work directly with the families. What were once sterile environments with white walls and random office furniture are now colorful, welcoming settings with couches, rocking chairs, and toys. There is even a sensory space for children with low lighting and a calming design. There were some beautiful murals, including one farm landscape by the talented and generous Joseph DiGiuseppe, a middle school teacher in Danbury whose work can be seen throughout the City of Danbury," said Chaleski.
Serving The Immigrant Community
Commissioner Dorantes stated that the Danbury Regional Office has seen the biggest growth in the diversity of the families it serves.
Danbury DCF office director Kelly McVey agreed. She said her office serves largely Latino families of all different native countries -- a large portion of whom are undocumented.
"Our team spends a lot of time really helping ease families so that they can get the service and the help that they need. We put a lot of effort into making sure our staff is just as diverse. Some of our staff mirror some of the places that families come from, like a small community in Brazil. We're extremely fortunate that the majority of our staff are very diverse. We are lucky that we have many staff that speak multiple languages," McVey said.
"When you have a leadership that embraces diversity and embraces the community that we serve, that you recruit and retain a staff of different ethnicities, that makes all the difference in the world," emphasized Commissioner Dorantes.
State Rep. Farley Santos, of the 109th district, is the first Brazilian to be elected to state office. He asked if aside from having staff that speak the language, what are some of the efforts that DCF has made to ease the apprehension the community may have about the agency.
"We want to engage nontraditional media outlets and get our local leaders on the radio to talk about the department and to dispel those myths about the agency," said Ken Mysogland, DCF's external affairs bureau chief.
Mysogland said all too often folks fear that by calling the department that a child will be removed, yet the agency works with 13,000 unique families every year and has the lowest number of children in their care in decades. The agency's goal is to have children safely remain at home.
"To quote our deputy commissioner: Every single interaction with families we work with is sacred. Every opportunity we have to get in front of our families and treat them with respect and dignity and show them that they are more than the issue that was brought to our attention. And they're not defined by the worst thing that has ever happened in their lives. That then will turn itself into even a greater reputation in the community," he concluded, adding, "We want to be viewed as a resource, not a punishment."
Fostering Family Hope also accepts donations of toys, art supplies, and new or gently used clothing among other items. For more information, visit www.fosteringfamilyhope.org/toy-box.
For more information on DCF services, visit https://portal.ct.gov/dcf.