Spring Experiences for Your Family to Enjoy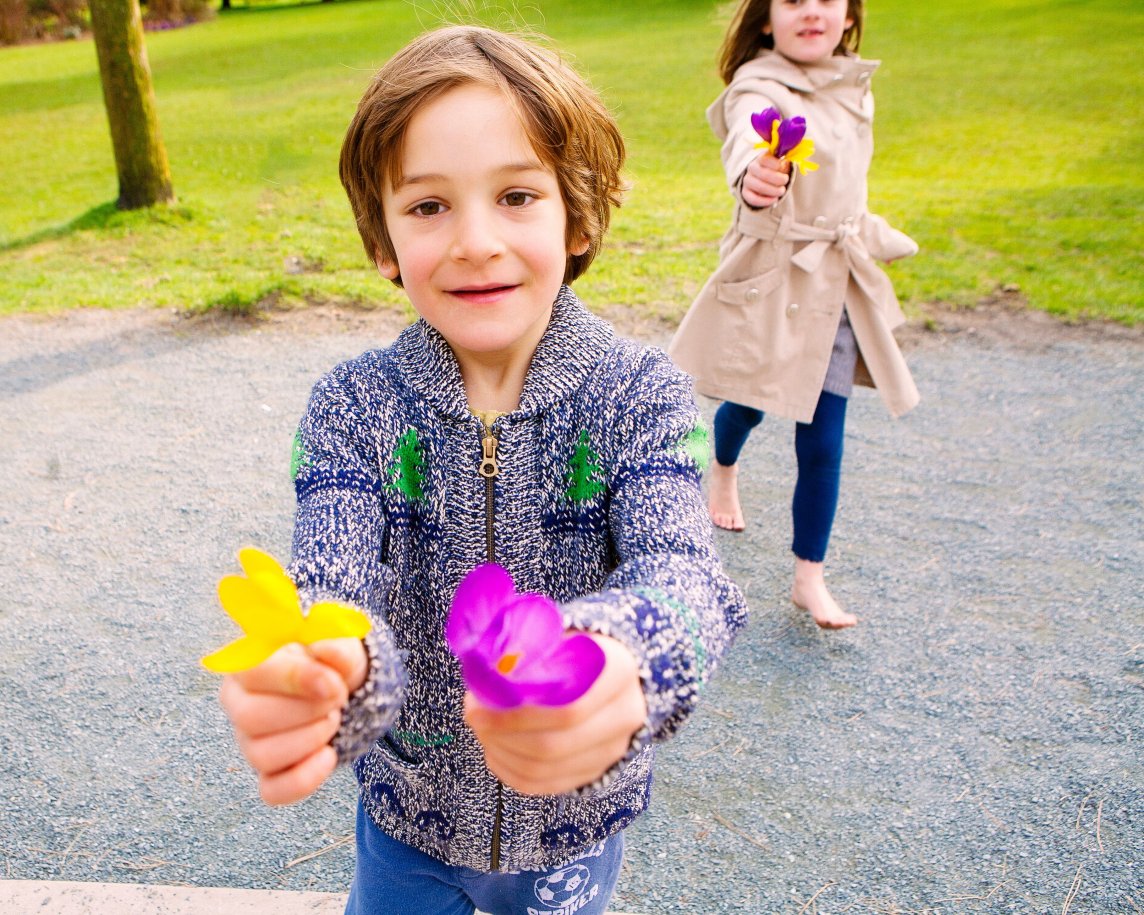 Spring is a wonderful time to move activities outside, especially those that might be messy indoors. Being outdoors offers an array of possibilities for activities – talking about the different blooming trees, the colors of the flowers, the smells of Spring, singing or reading books under a tree or the clouds.
By Anne E. Mead, Ed. D.
"It Looked Like Split Milk" is a perfect story to read under the clouds to have children imagine what animals or figures they are seeing in the clouds. Use shaving cream to make your own clouds on construction paper.
Many families may not want the messiness of paint in their homes. Move it outside onto a picnic table or a flat surface. Mix different Kool-Aid packets with ½ cup of water each and add 2T cornstarch to make a paint. Use brushes to paint on construction paper or cardboard. Ask your child what different scents they are smelling. Cover your child with an old shirt as Kool-Aid will stain clothing.
May Day is May 1st. Make a May Day pole with streamers on a tree or pole in your backyard. Traditionally, it was the halfway point between the spring equinox and the summer solstice! Have your child collect spring flowers (dandelions are the best) from around the yard and transform a basket into a May Basket or put the flowers in a vase to enjoy inside.
Chart the weather. Make a calendar with large squares, label it with the days of the week and numbers and have your child draw what the weather is like each day. On a rainy day after the rain has stopped, draw a circle around a few puddles. Over the next few hours look at how the puddle has evaporated and talk about what evaporation means.
A messy but fun project is mixing 2 cups of water into 6 cups of cornstarch. Watch the consistency change. Is it dry or wet? How does it flow through your fingers? Add a few drops of food coloring to make it extra special.
Make a bug hotel out of an old oatmeal container. Decorate the container with markers-you can cover it first with colored paper, draw windows, and cut them out. Once you have put a few bugs in the container, wrap them in saran wrap so they won't escape. Your young entomologist will enjoy the adventure. Release the bugs the next day.
Sing and dance to songs such as "Rain, Rain, Go Away," It's Raining, It's Pouring," If all the Raindrops Were….," and play games such as Duck, Duck, Goose, Find the Sounds, or "Mr. Rainbow Says" instead of "Simon Says."
Lastly, make a nature bracelet by wrapping the wide tape around your child's wrist with the sticky side of the tape away from your child's skin and on the outside of the bracelet. Walk around finding small items to put on the bracelet. Small pinecones, different colored leaves, petals, garden treasures, etc. Talk to your children about what they found. Your child will be very proud of their self-made bracelet!
Anne E. Mead, Ed. D. is the Director of Family, School & Community Partnerships for Danbury Public Schools. She can be reached at 203-830-6508 or by email at meadan@danburyu.k12.ct.us.