Danbury Celebrates the Legacy of Its Own Icon – Glover Lucas Teixeira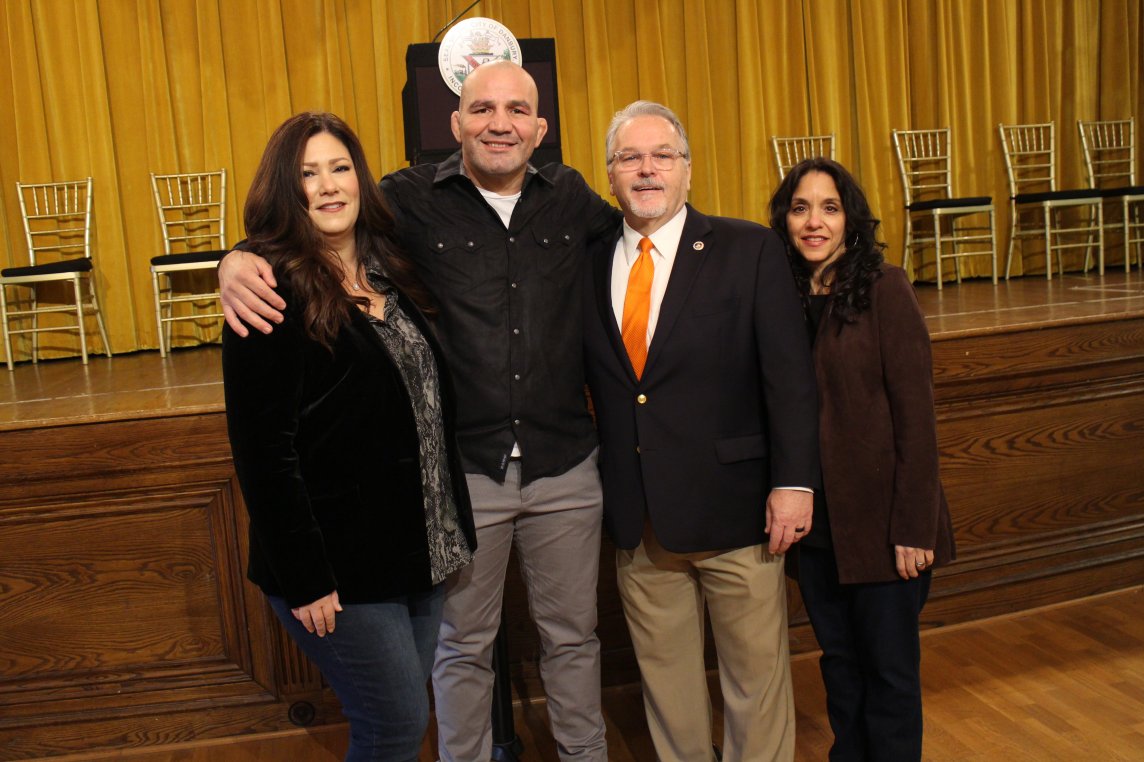 On Sunday, February 26, Mayor Dean Esposito hosted a gathering at the Danbury Portuguese Cultural Center, where local dignitaries, along with hundreds of friends, families, and fans, celebrated the exceptional career of Brazilian native Danbury resident UFC Light Heavyweight Champion, Glover Lucas Teixeira.
By Angela Barbosa
Born October 28, 1979, Teixeira, a Brazilian mixed martial artist, is a fighter who has gone from near-poverty in his home country of Brazil to the doorstep of a world championship. His unpretentious nature, as his wife, Ingrid Teixeira, describes him, as "a simple and humble guy," remains intact despite his fame.
In an exclusive interview with Tribuna, Teixeira shares his feelings on a life of gratitude and happiness in following his passion for MMA, and inspiring the lives of many people.
A feeling of accomplishment after the last fight
"I've been happy my whole career. I'm done, and I feel good to be done. It was a relief in a way, and it was like, you know what? I've done well. I mean I did my best."
Family at the core
My mom and my wife are super excited about my decision to retire because you got to understand that when you're a fighter, it's not just you that go through the pressure, the pressure of cutting the weight, the pressure of the fight itself, to win the championship, let down the fans and everything, but also your family.
What the future holds
For Teixeira, a life well lived must be shared, so he will keep on teaching.
"I have my gym in Bethel; I wanted to pass on what I know. When I was younger, I wished I had more knowledge. I want to pass on to the young kids the knowledge that I have now, providing a base for the kids and working out.
Impacting the lives of the youth
At the celebration, Mayor Esposito invited some of Teixeira's students to share their personal experiences with Teixeira.
"Glover impacted me because he gave me courage through MMA, and whenever I felt I couldn't do something, he was always there to push me to become my better self," said Angelise, a 13-year-old student at Teixeira's gym.
For 10-year-old Bethel resident Declan Pickering, it's an honor to call Teixeira his friend. "One of my favorite pieces of advice was during a Jiu-Jitsu class when I was rolling with a much bigger kid. He had me in a choke, and I would not tap. I should have, but I wouldn't do it. Glover told my opponent 'tap', and he stopped. Glover had me come off the mat, he fixed my gi and retied my belt and told me, 'It's ok to tap, Declan…because then you reset and restart.'"
Glover's legacy at Teixeira MMA & Fitness
"We train hard, we have lots of fun, and it's a family gym. Many times people think that we're a big fighting gym, but we're more like just having fun here because we have the fighters practicing in the morning, but at night, we're helping people."
According to Teixeira, all ages are welcome at the Teixeira MMA & Fitness.
"We offer a free tryout. There are lots of kids learning and competing all over the place. We take kids as young as three years old, and our oldest student, I think, is 76."
Bringing honor to the City of Danbury
"Today, we honored Glover Teixeira's career and his commitment to the City of Danbury! Glover is an incredible role model for our young people. I want to congratulate him on his retirement and look forward to him continuing to be involved in our wonderful community," concluded Mayor Esposito.
For more information, or to become a member of the Teixeira MMA & Fitness, located at 32 Stony Hill Road, Bethel, CT 06801, follow it on Instagram at teixeirammaandfitness, visit the website at www.gloverteixeiramma.com, or call (203) 456-3549.