Be Smart When Looking for Help with Immigration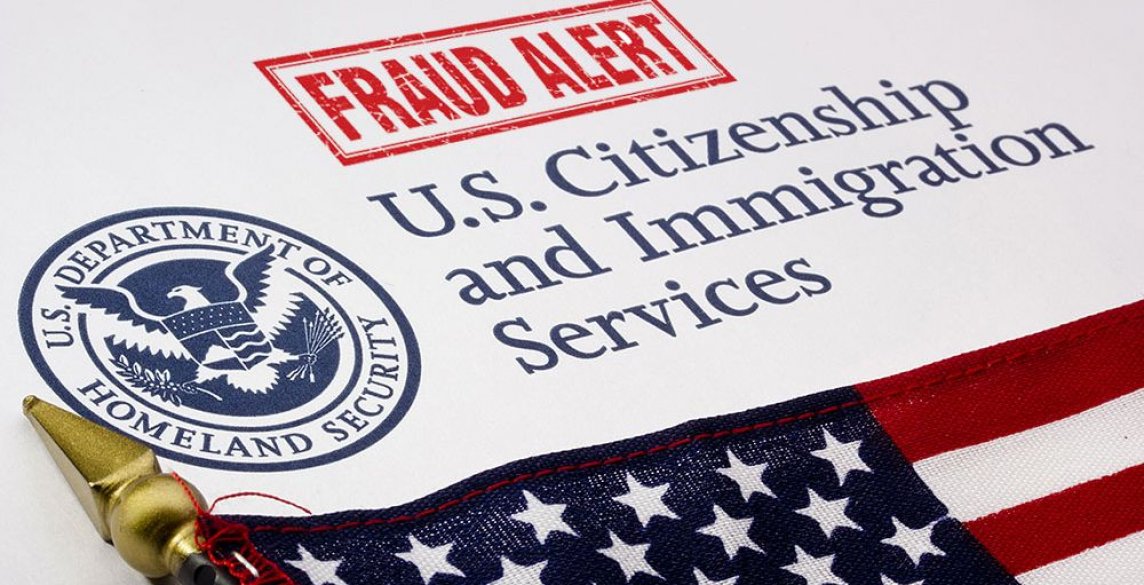 Those of us here at the Department of Consumer Protection hope that you are staying healthy and safe.
By Catherine Blinder | Translated by Jamal Fox & Alisson Ziza
Those of us here at the Department of Consumer Protection hope that you are staying healthy and safe.
Although these times are difficult for everyone, they are more challenging for those whose first language is not English, for those who don't have easy access to a computer and especially for those seeking citizenship.
Before the pandemic, many people went to their public library for computer access, and for help with employment opportunities, language classes and assistance with government forms. It is harder now to do that, and when people are desperate and lose their familiar resources, they are more likely to fall victim to scammers.
If you are seeking citizenship and are faced with unfamiliar forms and requirements, it can be difficult now when so many services and resources are online, and public institutions are closed or have very limited hours. Sometimes true and accurate information about how to apply for citizenship is hard to find – and that is when bad people will try to take advantage of you with promises of easy and quick paperwork processing.
Even though, with a new administration in Washington, D.C., there will be changes in the future that will help with the path to citizenship, it will not happen soon, and in the meantime, there will be people who try to take advantage of you.
For several years, we have had the honor of informing Tribuna's readers about their consumer rights. Many of the scams that we write about can affect your credit, your online safety, your personal safety or your home. But none of the scams we have warned about have the potential of devastating families like notario fraud.
Notarios tell you that they can process your citizenship papers, often promising that they can do it faster and better. They advertise in papers and on radio, websites and with posters in store windows. Sometimes they become a notary public, open an office in a neighborhood, put a sign in the window, and wait for people to find them. They call themselves immigration experts, notario publicos, or notarios, and their help can hurt you.
In the United States, a notary public does not have any legal authority. In many South and Central American countries, a "Notario" has more legal authority and is able to conduct legal business. In this country, a notary public has very limited authority, such as witnessing the signing of legal documents.
These are people who prey on their own communities. They take only cash, even charging you for blank government forms that are free. They can be very convincing – because they know just enough of the law to make it appear that they know what they are doing. They might tell you that they have a "special relationship" with the government offices that provide legal citizenship advice, or that they "work with an immigration lawyer."
But they are not lawyers. They cannot, by law, file your petition for citizenship.
Sometimes the help they give you can hurt your chances of immigrating legally. In some cases, their help has created situations in which family members are deported.
Only licensed lawyers or a representative of the United States Citizenship and Immigration Service (USCSIS) accredited organizations can represent you when you apply for citizenship. An accredited representative is not a lawyer, but they have been authorized by the government to offer immigration advice, and they may represent you. They must work for an organization that is recognized by the government. You can get a list of these individuals and organizations from the Board of Immigration Appeals (BIA) at the Department of Justice (www.justice.gov).
A notary public, or even a friend, a teacher or a relative can help translate, or write what you tell them to on forms. But they cannot give you advice on what to say or direct you to the proper forms.
If you are having a hard time finding truthful information online, ask someone you know who can help - a friend, a family member or a trusted faith leader.
The path to citizenship is hard, and can take a long time, but you have a better chance if you follow the rules and remember the following tips.
Don't go to anyone advertising as a

notario publico

, or immigration expert.

Never give anyone cash for immigration help.

Never pay for blank government forms – they are free.

Get immigration forms from U.S. government websites or at their offices.

Make sure the website ends in .gov – that means it is an authentic government website.

Don't ever let anyone keep your original documents, like your birth certificate or passport. Scammers may keep them and make you pay to get them back.

Never file a form before it has been filled out completely, or a form that you know has false information on it.

Never sign a document you do not fully understand.

Make a file, and keep copies of everything, including all letters from the government about your application petition.

Keep the receipt you will get from USCIS when you submit your paperwork. It proves that they received your paperwork. You will need it to check on the status of your application or petition.
Call USCIS to ask about qualified lawyers near you – 1-800-375-5283. And always compare prices.
We have recently been notified of several people in the Danbury and Bridgeport area who advertise immigration services, sometimes in addition to lawful businesses they may be conducting. Please call or email DCP's complaint line below to let us know about anyone who is not a lawyer advertising immigration help. Often, they work to gain the trust of a community member who then recommends them, not knowing that they will steal money and be unable to offer real, legal help.
It can be frightening to complain to a state or federal government, but a complaint to DCP will be held in confidence and will help not only you, but others who have been victims of dishonest people.
If you or someone you know has heard about a person offering unauthorized immigration assistance, please contact DCP (dcp.complaints@ct.gov or call 860.713.6300)
Also visit ftc.gov/complaint for more information on filing a federal complaint with the Federal Trade Commission.
And remember to Pass it On to friends, family and neighbors! We will get through this together.
This article was written by Catherine Blinder, chief education and outreach officer of the Department of Consumer Protection of the State of Connecticut. To learn more about how the Department of Consumer Protection can help, visit us online at www.ct.gov/dcp.