Be Aware of COVID-19 Scams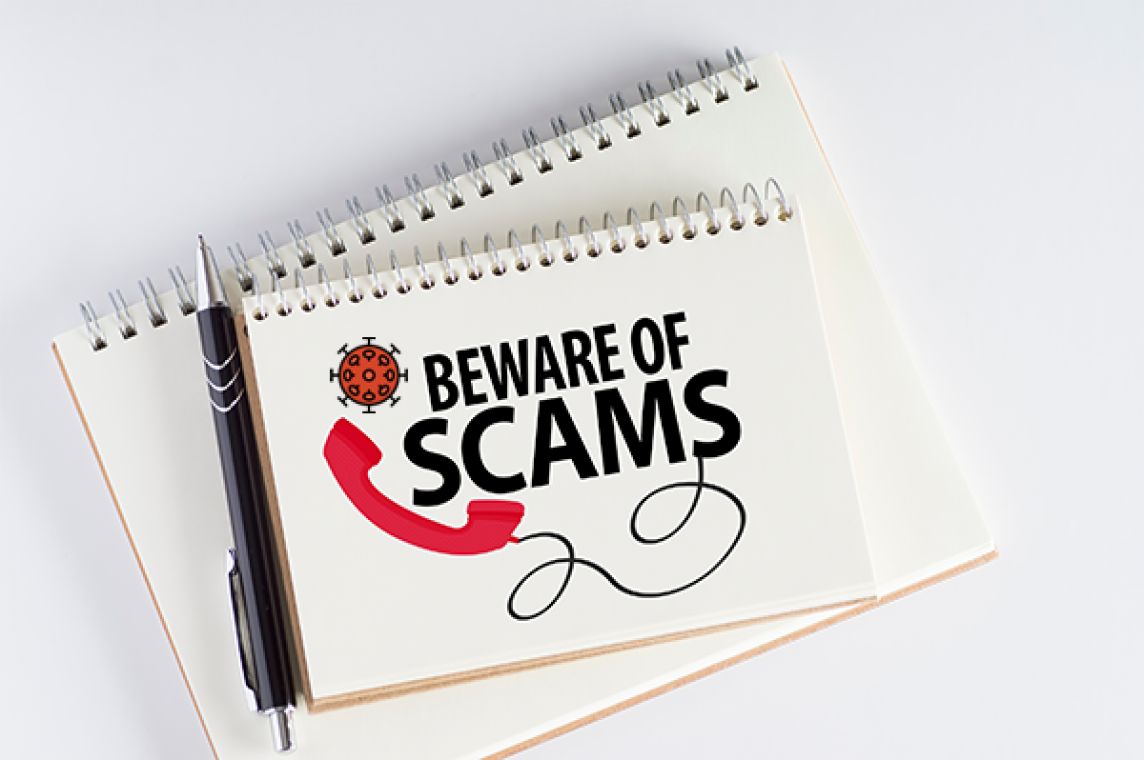 Scammers do not take breaks, even during a global pandemic. COVID-19 has caused widespread unemployment and financial hardship in the United States. Unfortunately, scammers use fear and uncertainty to take advantage of people.
By Catherine Blinder | Translated by Jamal Fox & Alisson Ziza
Scammers do not take breaks, even during a global pandemic. COVID-19 has caused widespread unemployment and financial hardship in the United States. Unfortunately, scammers use fear and uncertainty to take advantage of people.
Although there will be more scams to come as a result of the pandemic, this month, we want to warn you of common COVID-19-related scams that target consumers like yourself. Scammers create many fraudulent claims related to vaccines, testing kits, stimulus checks and donations. If you respond to these claims, your bank accounts, private information and technology may be at risk. Fortunately, you can use fact-checking strategies to guard against fraud.
Here is a list of common scams.
Stimulus Checks
People who qualify for a stimulus check are:
Taxpayers who filed a federal tax return in 2018 or 2019

Retirees with Social Security, railroad or other retirement benefits

Beneficiaries who receive public benefits such as SSDI, disability or veterans' benefits

People who do not have to file a federal tax return, including those who make less than $12,000 a year (or $24,000 for married couples)
In most cases, you do not need to fill out any extra information to get your stimulus check. The IRS should already have your information on file and will send your money through direct deposit or check. If you are concerned that you have not yet received your stimulus check, visit the "Get my Payment" feature on the IRS website (irs.gov/coronavirus).
Do not answer any phone calls, emails or text messages claiming they are from the government or the IRS. The IRS will not contact you by phone, email or text – anyone claiming to be the IRS is likely a scammer.
If you or a loved one lives at a nursing home or assisted living facility, the facility is not allowed to take your stimulus check. Some facilities are intercepting stimulus checks
and keeping them from their intended recipients. These facilities claim that if residents are on Medicaid, the facility is entitled to residents' stimulus payments. This is false information. According to the CARES act, stimulus checks are a tax credit, and must be given directly to the recipient. If a nursing home has already taken your stimulus check, get in touch with the Office of the Attorney General (https://www.dir.ct.gov/ag/complaint/).
If you are a college student, beware of emails from the "Financial Department" of your university regarding your COVID-19 stimulus check. Some emails might ask you to log in to your student portal using your secure username and password. These emails are a scam. They allow scammers to access your personal information, or to download malware onto your computers.
Treatment
There are currently no approved treatments for COVID-19. Any advertisement for a vaccine is false and purchasing these "treatments" could be dangerous to both your health and your bank account.
Some of the common fake "treatments" offered are intravenous (IV) Vitamin C and D infusions, stem cell therapy and immunity boosting shots. There is no proof that these treatments help cure or prevent the coronavirus. More likely, they are the work of scam artists, and will either do nothing or be detrimental to your health.
Testing
Not every COVID-19 testing site is legitimate. Some sites are set up by scammers hoping to earn money from the crisis. These sites might look professional. However, test results from fraudulent sites are not accurate, and the employees do not always follow health and safety protocols. If you visit a fake testing site, you may get sick. There are many free public testing sites in the state, visit https://portal.ct.gov/coronavirus to find one close to you.
Scammers are also advertising at-home test kits that you can order online. These test kits may never arrive. If testing kits do arrive, they are not approved by the government, or by medical professionals, and will not provide accurate results. To avoid fraud, speak to your doctor and go to an approved testing center for testing.
Donations
Be cautious about whom you donate money to. Donations should never be sent by cash, gift card or wired through your bank account. This is how scammers steal funds from well-meaning citizens. Instead, any donation you make should always be sent by check or paid online using a debit or credit card.
Make sure the organization you are donating to is legitimate and registered with DCP. To check that they are registered in Connecticut, go to https://portal.ct.gov/DCP/Charities/Looking-Up-Charities-Online.
Often, scammers use the name of a trusted organization (such as the World Health Organization) but change the organization's spelling or website address slightly. Double check for spelling and google the name of the organization plus the words "scam" or "review" to ensure it is legitimate.
Keep records of all your donations and remember; if your friend shares a link to a charity on social media, that does not automatically make it legitimate! Ask your friends why they donated to this cause, and if there is evidence that the money is being put to good use.
Reporting Fraud
During this time, is more important than ever to protect your finances, technology and privacy. Please share this information with friends and family and refer to the State of Connecticut's website (https://portal.ct.gov/) for updated information on COVID-19. And if you suspect a scam, contact DCP dcp.frauds@ct.gov or the Federal Trade Commission's website https://www.ftc.gov/complaint for more information, or to report any attempted scams.
This article was written by Catherine Blinder, chief education and outreach officer of the Department of Consumer Protection of the State of Connecticut. To learn more about how the Department of Consumer Protection can help, visit us online at www.ct.gov/dcp.