A Wealth of Health, Danbury Farmers Market Offers Exciting Opportunities!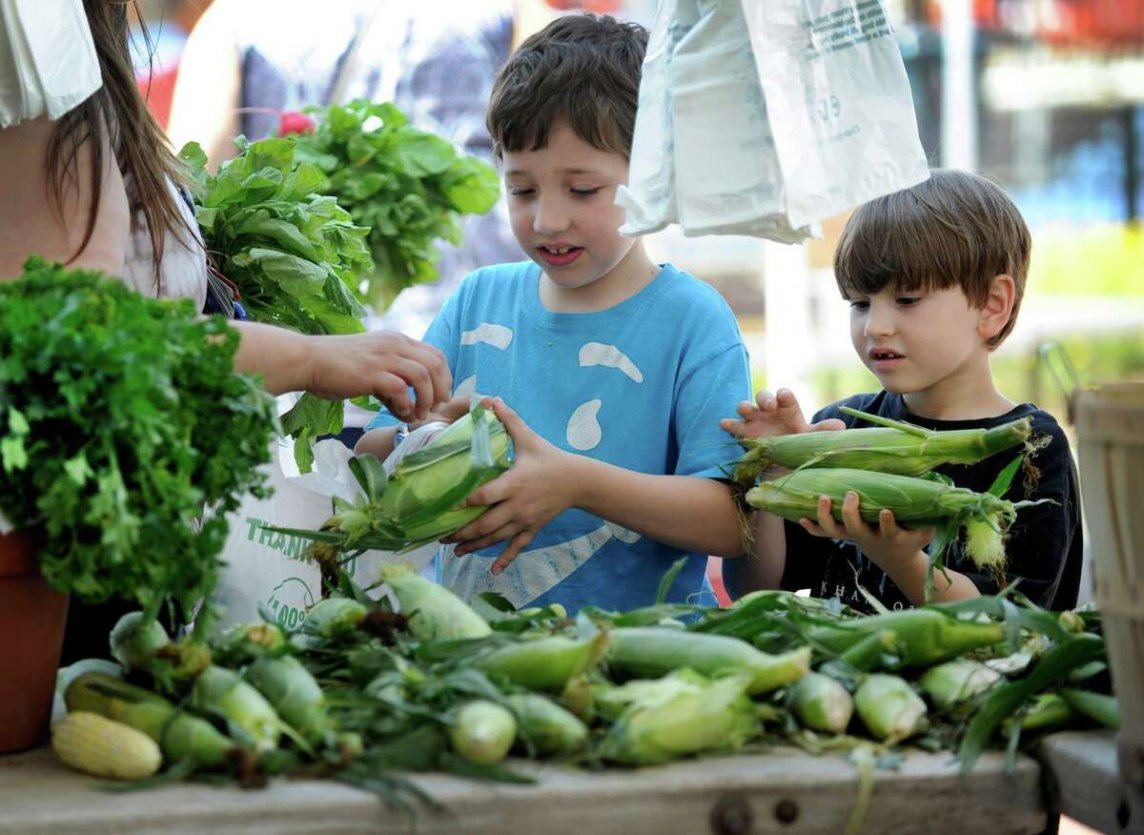 It's the height of growing season! The Danbury Farmers Market, on the CityCenter Danbury Green, (located at 1 Ives Street) Saturdays from 10 am - 2 pm through October is more than just local food and farmers. Our Farm to You market is a hub of health and community. It is the perfect way to spend Saturday mornings accompanied by weekly live music for your shopping pleasure.
By Cande Alday
Many of our vendors and market staff are bilingual so all feel welcome.
Corn, tomatoes, peppers, chilis, tomatillos, cilantro, calabaza, squash, eggplant, leafy greens, melons, and all sorts of fresh fruit are all available now. The value of healthy fresh produce provides huge health benefits. Our market farms are sustainably run, meaning they utilize as close to organic practices as possible, minimize transportation to consumers, and require little to no packaging for their products.
Unlike fruits and vegetables found at grocery stores, produce sold at our market is harvested at the peak of ripeness. Not only does this make the produce more flavorful, but it also means that it is bursting with essential nutrients. These nutrients benefit our overall health, help boost our immune systems, fight chronic disease, and help maintain healthy skin and hair. Produce at the Farmers' Market also lasts longer due to its freshness coming straight from the farm to you. The benefits are endless when you shop locally!
The mission of the Danbury market is to provide equitable access to fresh food for all Danbury residents. We do this at our tent by accepting and doubling the value of SNAP/food stamps, WIC, and Senior Farmers Market Nutrition Program (FMNP) benefits, providing veterans $10/week in produce cash certificates, and through many other community programs through which we provide monetary certificates to buy fresh produce at the market. These incentive programs are provided by the Danbury Farmers Market Community Collaborative (DFMCC), with about 30 community members. These benefits are not found at grocery stores, making shopping at the farmers market even more valuable.
Additionally, shopper favorites include the Chef's Demo nutrition education workshops given twice a month. These classes focus on the importance of a well-balanced diet and teach a new recipe in each class! As an extra bonus for attending, participants receive $15 in market certificates for the produce of their choice.
The market is a true health hub, with RVNAhealth providing health screenings and the Danbury Health Department providing flu vaccines. Other organizations also have tents at the market, giving out information about resources in the community. All organizations are invited to sign up and join us.
Lastly, when you shop at the Danbury Farmers Market, you can also connect with the people who grow your food. This provides the space to ask questions, learn about the produce they grow, and gain appreciation for the hard work that goes into producing the food that sustains us. The value of fresh fruits and vegetables extends far beyond delicious taste and vibrant colors. Visit the Danbury Farmers Market to experience it all!
For much more information, visit our website www.danburyfarmersmarket.org, and sign up for the Market's weekly newsletter, join us on Facebook, or follow us on Instagram.