Assistance for Families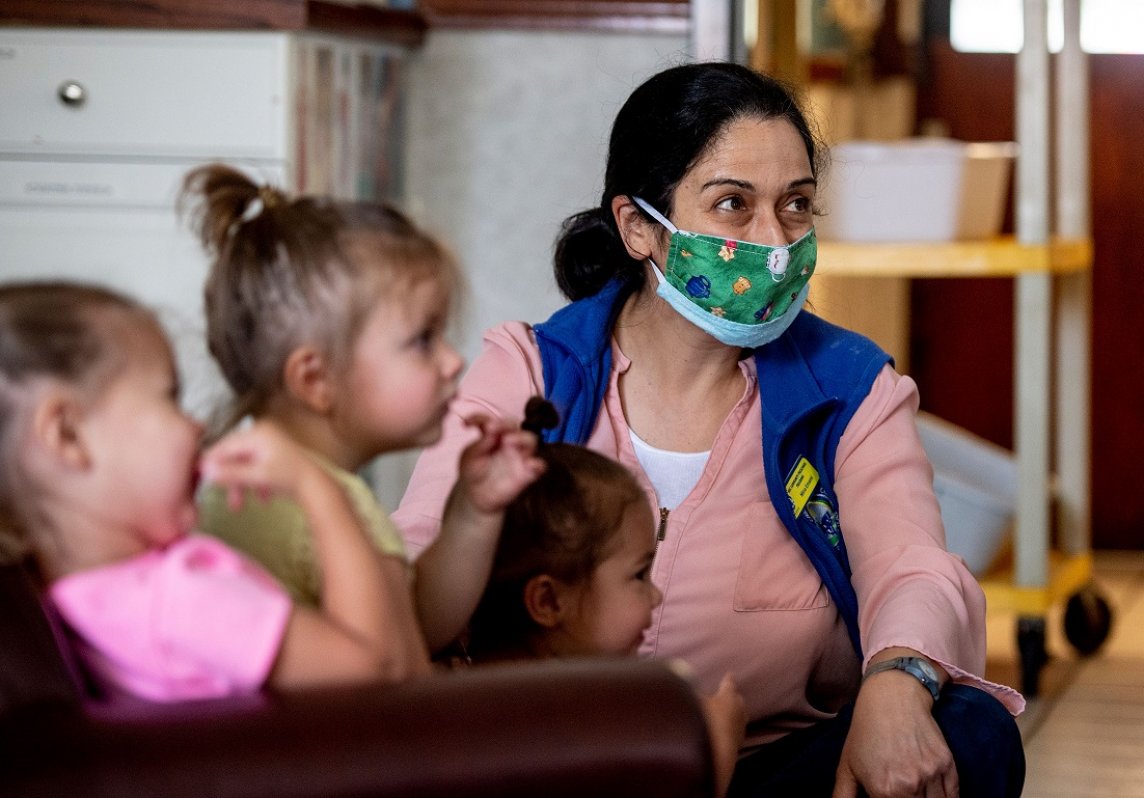 Caring for a family is a full-time job. And like all other jobs, it has been profoundly affected by COVID-19. The pandemic has put both financial and logistical stress on families. Money is tight, and so is space at home.
By Catherine Blinder | Translated by Jamal Fox & Alisson Ziza
Caring for a family is a full-time job. And like all other jobs, it has been profoundly affected by COVID-19. The pandemic has put both financial and logistical stress on families. Money is tight, and so is space at home.
As the pandemic drags on, you might find yourself in need of assistance. We have compiled a list of resources that can help address food insecurity and child care needs. Remember, everyone is in the same boat right now! There is absolutely no shame in asking for help.
If you are experiencing food insecurity…
You might be eligible for Supplemental Nutrition Assistance Program (SNAP). Families who are eligible for SNAP receive an Electronic Benefit Transfer (EBT) card. Every month, the government reloads EBT cards with credits for food purchases. EBT cards look just like credit cards, and can be swiped like credit cards at participating grocery stores and markets.
To see if you are eligible for SNAP, you can call the Connecticut SNAP hotline at (866) 974-7627. You will be asked a series of pre-screening questions involving your income, family size and financial circumstances. If your needs match the SNAP requirements, someone will assist you with your application.
If you are accepted into the SNAP program, you can double the purchasing power of your EBT credits by shopping at local farmers' markets. The Connecticut Fresh Match Program has partnered with farmers' markets across the state to match every dollar you spend on fruits and vegetables. To take advantage of these extra benefits, swipe your EBT card at a participating market vendor. Enter the amount of money you'd like to spend, and the vendor will give you double that amount in credits or tokens. You can use these tokens right away, or save them for later. The only catch? You must use these funds to purchase fruits or vegetables. To see a list of participating farmers' markets, visit https://www.endhungerct.org/services/farmers-markets/.
Regardless of your SNAP eligibility, all families with children under the age of 18 can participate in the Summer Meals Program. This program is essentially school lunch for the summer months. Participating schools prepare and package nutritious meals for pickup at absolutely no cost. Schools usually serve breakfast and lunch, but some offer different combinations of snacks and dinners as well. It is important to note that any child in Connecticut (under age 18) is eligible for these meals. Your child does not need to attend the school providing meals, and your family does not need to qualify for free or reduced-price lunch. To see a map of summer meal pickup sites near you, visit https://www.endhungerct.org/services/summer-meals/.
If you have concerns about child care…
Again, you are not alone! Whether you are returning to an in-person job, working from home or looking for employment, finding affordable child care can be challenging. Before you look any further, try reaching out to trusted friends, family members and neighbors for assistance.
Make sure anyone you hire has a low likelihood of carrying the coronavirus. Some families are requiring that a potential caretaker has recently tested negative for the virus. Some good questions to ask are - have they traveled out of the country recently? Are they exhibiting any symptoms (including cough, sore throat, fever, fatigue or shortness of breath)? Have they been in contact with anyone suspected of having the virus? If the answer to any of these questions is yes, look elsewhere for child care.
If you are an essential worker, Connecticut's CT Cares program has created special accommodations for your child care needs. The Office of Early Childhood will help you locate a licensed child care provider, and might even help with tuition costs, depending on your financial need. To get immediate assistance locating and paying for care, call 2-1-1.
If you are a health care worker or first responder, there are even more resources available to you. The Office of Early Childhood has set up emergency child care centers across the state specifically for children of hospital workers. To find child care centers with open spaces near your home or the hospital where you work, call 860-756-0864.
We are all in this together, so we urge you to pass on any useful information to friends and family!
This article was written by Catherine Blinder, chief education and outreach officer of the Department of Consumer Protection of the State of Connecticut. To learn more about how the Department of Consumer Protection can help, visit us online at www.ct.gov/dcp.