Routines and Self-Reliance Led to a Job at Goldman Sachs for Chriss Sari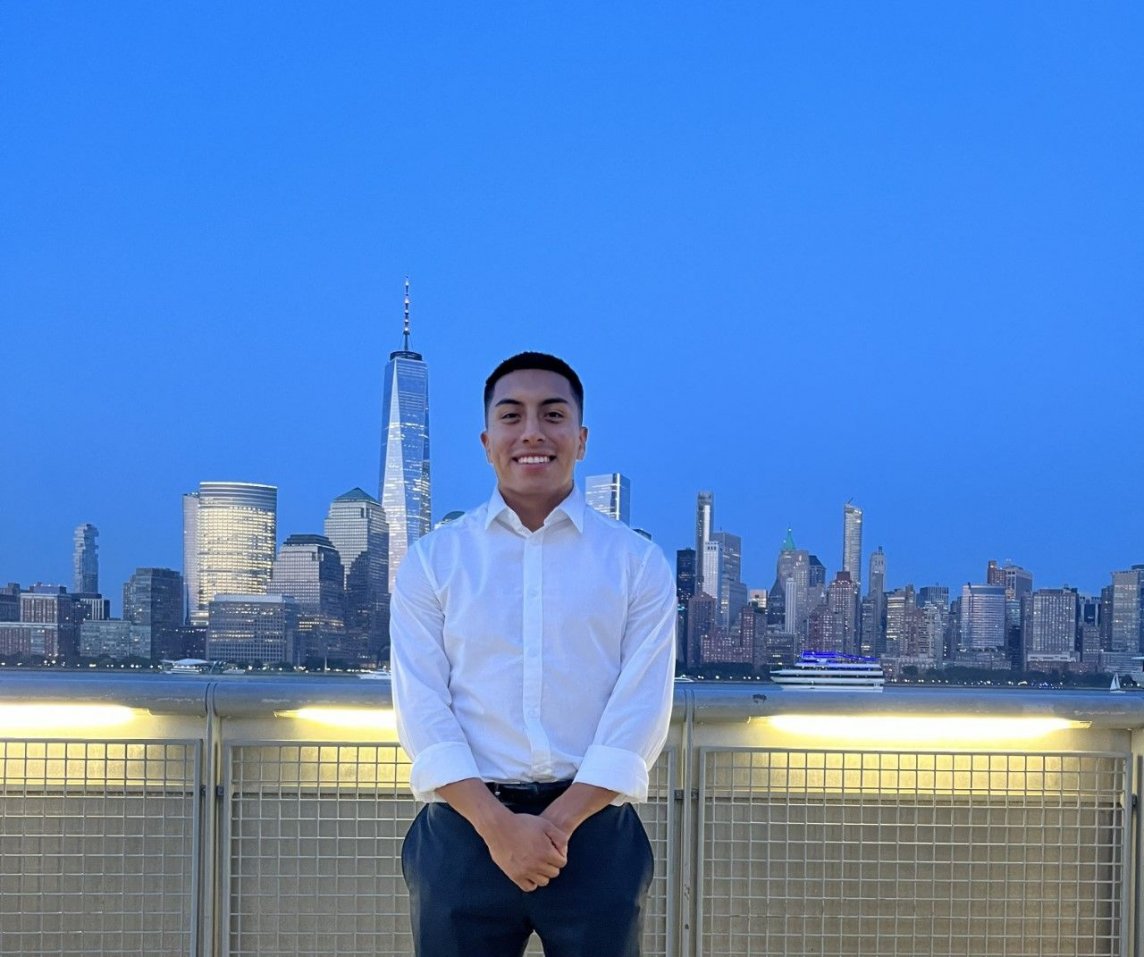 "I enjoyed the routine," Sari said. "It taught me discipline and kept me in check."
By Sherri Hill
Chriss Sari likes routines. As a student, the Danbury native would get up at 5 a.m., go to the gym, eat breakfast, go to work at Union Savings Bank, and then take evening classes, working toward a Bachelor of Business Administration in Supervisory Management at Western Connecticut State University. "I enjoyed the routine," Sari said. "It taught me discipline and kept me in check."
The hard work paid off recently when the 23-year-old, first-generation college graduate was offered a position as an analyst at Goldman Sachs. He was one of 1,600 hires by Goldman Sachs in the Americas in 2022.
Sari developed a strong work ethic by watching his parents, both Ecuadorian immigrants, as they devoted their time and energy to their cleaning and landscaping business. Once he joined WCSU's ConnCap/Upward Bound program in high school, it awakened him to the possibility of college. "The program took me on campus tours, helped with paperwork, filling out the FAFSA, and how to apply," Sari said. "I realized I could live at home, keep my job, and save money. It opened my eyes to everything."
After a year at Naugatuck Valley Community College, Sari enrolled at WCSU. In the BBA Supervisory Management track, he was exposed to financial accounting, supply chain management, managerial accounting, and more.
As a WCSU senior, he applied to as many job opportunities as he could, including three positions at Goldman Sachs that he saw online. "What was the worst that could happen? They could say 'no,' and I would be in the same position I was in before. So, I went for it," Sari explained.
Soon after, he had an online interview and then a Super Day interview, where every 30 minutes, he would interact with different executives for an hour and a half via Zoom. To prepare, Sari immersed himself in financial news and market conditions and poured through the Goldman Sachs website. He also practiced talking about how his coursework at WCSU and his job at Union Savings Bank would relate to the expectations at Goldman Sachs. "I focused on the thoroughness of my classwork and job. At Goldman Sachs, they expect perfection. I explained that I understood that they chase excellence and give their best work every day, and this is the environment I want to be a part of."
A second Super Day interview followed, and then he received an offer of employment. "I couldn't believe it," Sari said. "It was a surreal feeling. To receive an offer of this magnitude changed everything." His contract was signed within 48 hours.
Less than two months after his May 2022 WCSU graduation, Sari was in Manhattan at Goldman Sachs' orientation. By late July, he was settling into his new apartment in Salt Lake City, Utah, and working long days with the Direct Management Reporting team, which serves as "the breach between product controllers who work with traders and senior management to report revenues in Global Markets and investment banking."
"This is my first time on my own, having an apartment, feeding myself, everything," Sari said. "I am here with the mindset to learn and understand everything. I do not care how long I have to be in the office. I left all the people I love behind to grab an opportunity that I could not pass up.
I'm trying to set an example for my little brothers, and I hope I can offer guidance for the next group of students at WCSU. If it weren't for the experiences I went through and learned from during my years at WCSU, I would never have gotten here. I am where I am today because of my mindset: it is important to believe in yourself because if you don't, then who will?"
To learn more about Western Connecticut State University, visit www.wcsu.edu/admissions, email admissions@wcsu.edu or call (203) 837-9000.