Danbury Indian Community Celebrates 75 Years of Independence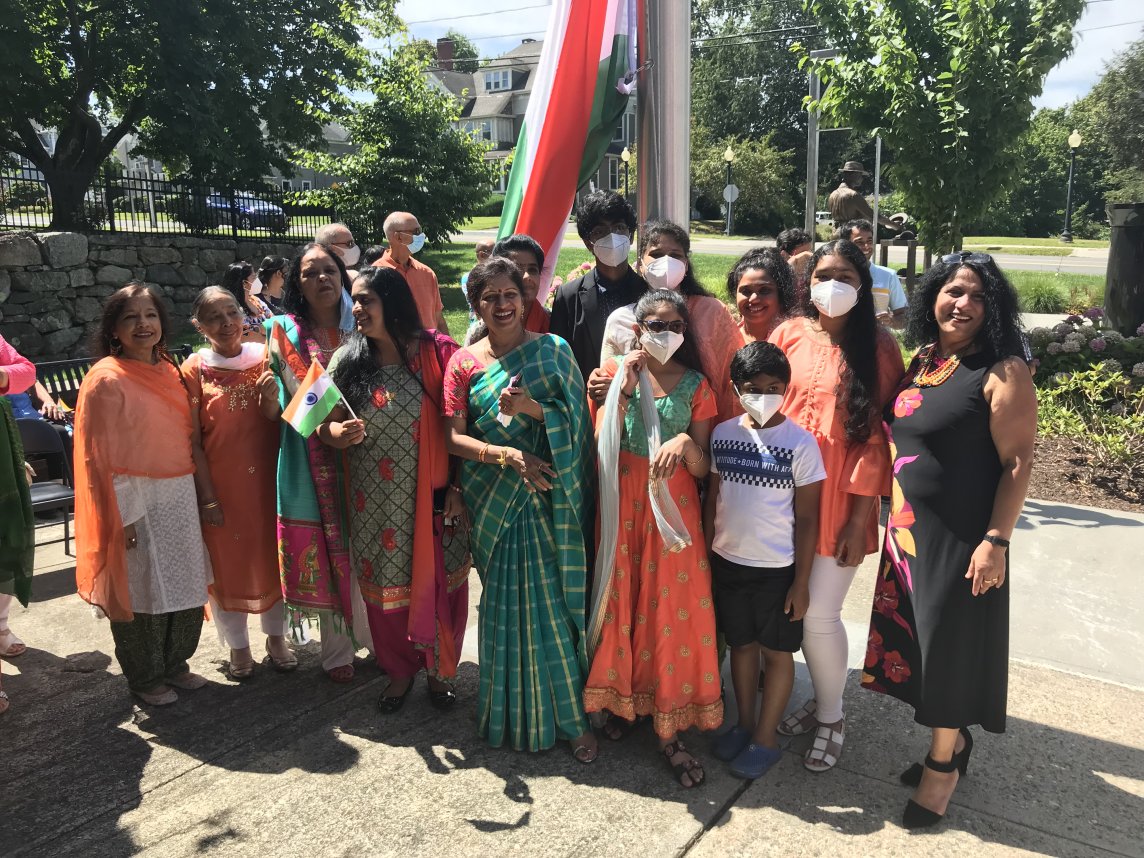 A sea of colorful traditional Indian outfits filled the Heritage Plaza at the Danbury City Hall on August 15 to celebrate 75 years of Indian independence from British. For the Indian community in Danbury, it was a heartfelt gathering to celebrate "home away from home."
By Angela Barbosa
A sea of colorful traditional Indian outfits filled the Heritage Plaza at the Danbury City Hall on August 15 to celebrate 75 years of Indian independence from British. For the Indian community in Danbury, it was a heartfelt gathering to celebrate "home away from home."
Mini Santosh, a community leader, and the director of the Action Early Learning Center in Danbury, was the event's emcee. Joined by Mayor Joseph Cavo, and other state and local dignitaries, Santosh reminded the attendees of the pride to pass along their cultural traditions to younger generations, which was shared on stage by Arjun Parimi, a 9th grader at Danbury High School.
"As a child, I heard the stories of several great independence freedom fighters. One of the most well-known is Mahatma Gandhi, and the list goes on for several thousands of freedom fighters, starting from the year of 1857 with the Great Indian Rebellion. Today, I stand before you because of these fighters' tireless resistance and sacrificing independence movements for more than 100 years to give dignity, respect, freedom, and democratic values to all future generations of kids like me."
Any Indian event would be incomplete without music and dance. The iconic song "Vande Mataram," translated as "I praise to thee, Mother," which played a vital role in the Indian Independence movement, was interpreted by Ashok Panigrahi. Six-year-old Avik Panda and twin sisters Aarika and Aashana Malhotra sang patriotic songs, and a classical dance was performed by Reva Podila.
Six students were recognized for their outstanding accomplishments: Arjun Parimi, Aditya Shankar, Diya Radha, Shaarva Karthikeyan, Kavya Podila and Shriya Jonnalagadda.
The flag was raised by Mayor Cavo and Ashok Nanda, with attendees singing the Indian anthem in unison followed by the U.S. anthem, performed by Maria Lostocco.
"When the concept of the heritage plaza came about, we wanted to be the lead city in Connecticut that went out and honored the contributions from so many groups here that have come and made Danbury a special place that it is and that will remain so because we are all family here in Danbury and that is what makes the difference," concluded Mayor Cavo.